Services
Idaho Laboratories offers many different services to help with your unique applications.
Wire Drawing
We can draw your bare wire to almost any size you might want. We also offer straight thermocouple bare wire or rod in various sizes, or send yours to us – we will return it to you at the size you need, and ready to machine. We can draw or swage your material, and custom weld your tantalum, molybdenum, or other exotic alloy part.
Non-Destructive Testing:
Do you need PMI (positive material identification) of your finished parts, or some material lost traceability? We can solve that. With our Innovex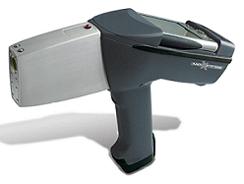 XRF analyzer, we can distinguish between the hardest alloys, even differentiating between 321, 316, and 347 is no problem. We also offer X-ray services. Backed by our in-house ASNT Certified Level III and in-house equipment, fast turn-around is possible.
We now have in-house Certified ASNT Level III for Radiography. Any questions are welcome! We can offer X-ray of your parts per ASTM E-608; including nuclear or other High-Reliability applications.
We still offer Positive Material Identification (PMI). Our Innovex XRF can determine almost any alloy. It can even distinguish between 304, 316, 321 and 347 stainless steels.
Small Diameter Thermocouple Cable:
We have added another furnace dedicated to small and specialty cable – this allows us to expand the variety of cable already offered. We supply mineral-insulated (MI) cable down to .010". And with the other sizes we make means we have material for any need (from .010" up to 1.129" diameter), including tantalum material. We carry stock of the normal materials, and odd-ball ones too!
Other Services
We also offer the following services. Please call us to discuss specific questions you might have.
Industrial X-Ray (ASNT Level III)
PMI (positive material identification)
Calibration Services

Standard freeze points: 449 F, 621 F, 787 F, 1220 F, 1981 F
Cryogenic temps: 32 F, -109 F (dry ice), -328 F (liquid nitrogen)
Other temperatures as needed

Non-Destructive Testing per ASTM specifications

Dye Penetrant (Type IV)
Helium Leak Test

Other Testing

Hardness Testing
Metallography Services
Etching & Sample preparation
Dielectric/Hi-Pot Testing
Insulation Resistance (room temp & high-temp)
High Pressure Testing
Wire Homogenity
*Our Quality System is NQA-1-2000 Compliant.